Who is online?
In total there are
42
users online :: 0 Registered, 0 Hidden and 42 Guests
None
Most users ever online was
293
on Mon Jul 25, 2011 11:22 am
Moderators & partners
• Discover the Modern Hand Reading Forum partners:

• Modern Hand Reading Forum Partners

Statistics
We have
5200
registered users
The newest registered user is
gustavomaximiliano
Our users have posted a total of
43234
messages in
4293
subjects
Top posting users this month
Top posting users this week
Recommendations
• The FREE hand reading services at the Modern Hand Reading Forum are being continued in 2015 with the assistance of

G

o

o

g

l

e

adsense!

Google+
MAJOR HAND READING SYNONYMS
Palmistry, Palm Reading, Hand Analysis, Chirology & Chiromancy.
Learn how to read hands according the Modern Hand Reading paradigm & you can use this forum as your palm reading guide!
Complexities of a Double Life Line
The Life line on the hand is typically the most apparent. It runs vertically down the palm terminating in the webbing between the thumb and first.
The line shows the quality of one's stability, their structure, routine, security, sense of feeling grounded, their vitality and health. It relates very much to ones base, roots and home. It is also the line on the hand in which events can be most clearly seen and timed. These events are of course always subjective to the person and show their relationship to them rather than the specifics of the event itself.
The Overlapping Line
The overlap and change in the life line signifies a change in the person, relating to aspects of the home and family. In my experience around 80% of the people with this mark will have considered or actually have moved abroad. The exceptions to the rule are 1). when someone is young and the break corresponds to 25 ­30+ years of age (measured chronologically down the line) and this aspect of themselves has not yet manifested; 2). when the person has a very close and intimate relationship with their family, which means the shift and change is merely moving out of the family home, village or town or 3). when there does not appear to be a physical move or change on the horizon, but there will without question be a psychological shift of some measure...
For the full article please visit RootPalmisty: http://rootpalmistry.com/content/?p=516
...The person with a double life line or with an overlap has a specific psychological desire for exploration and some form of change. They will feel a need to branch out, explore and see a new side of life. There is a need to experience something different from their up­bringing and this always manifests as a relative sense of curiosity and adventure. It shows that in some form the person will have a positive, more adventurous side to themselves and though it does not necessarily mean distancing themselves from the family, this is the easiest way to conceptualise it; movement, branching out and a change in perception. Due to the line overlapping on the outside, it is viewed as a step towards the outer world and one that opens the person to many more possibilities...
For the full article please visit RootPalmisty: http://rootpalmistry.com/content/?p=516
Wonderful article Lawrance
Hi lawrencerook,
Great explanation of the Life line!.....this is one of the websites I find to be of original work.
I checked out the article on index finger too, its perfect!.....I liked few lines, which I have copied down without your permission, hope you don't mind!

A long index-fingered person puts themselves in situations involving other people or groups in order to test themselves, and measure and judge themselves accordingly. But it is not other people's reactions that they are judging themselves on, but how well they hold up to their own self-inflicted pressure, which is the ultimate marker.
I look forward to more interesting things, keep it up!!

rajashri




Posts

: 157


Join date

: 2014-01-09



lawrencerook wrote:The Index finger: Psychology of the very long and short
A long index with a whorl can be a very difficult character, not caring what others think and being very independent. Notoriously difficult, they live in their own world and their way with no regard for the group or others. They are motivated by things that will build their own sense of ego.

Wow, thank you for sharing this article. This passage in particular caught my eye. I am just this person you are describing here: My right index finger is extraordinarily long, as long as the one shown on your page. Both index fingers also feature whorl prints, and both palms have independent head lines. I tend to be my own worst critic and often set overly high standards for myself. If my performance fails to meet my own expectations, I would be be quick to dismiss others' opinions, even if they are complimentary. But I am also very aware of those around me, sensitive to moods and thoughts, and am usually anxious to be accommodating which is why I value my solitude so much. You could chalk that up to the fear of being judged, but it comes from a desire to do what I feel is the right thing, in my eyes. But yes, if I were to be honest, not many of my relationships with people have come to a pleasant or clean end - I always end up feeling disillusioned or discontented over something.
To get back on topic, how do you tell a second life line from a "Line of Mars" or an influence line?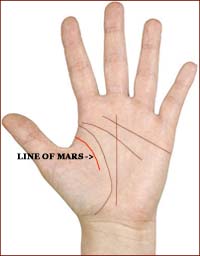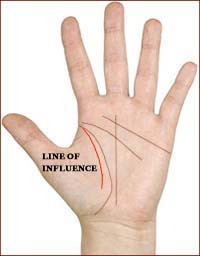 rara_avis




Posts

: 7


Join date

: 2015-09-21



lawrencerook wrote:

Complexities of a Double Life Line

The Life line on the hand is typically the most apparent. It runs vertically down the palm terminating in the webbing between the thumb and first.

The line shows the quality of one's stability, their structure, routine, security, sense of feeling grounded, their vitality and health. It relates very much to ones base, roots and home. It is also the line on the hand in which events can be most clearly seen and timed. These events are of course always subjective to the person and show their relationship to them rather than the specifics of the event itself.

The Overlapping Line

The overlap and change in the life line signifies a change in the person, relating to aspects of the home and family. In my experience around 80% of the people with this mark will have considered or actually have moved abroad. The exceptions to the rule are 1). when someone is young and the break corresponds to 25 ­30+ years of age (measured chronologically down the line) and this aspect of themselves has not yet manifested; 2). when the person has a very close and intimate relationship with their family, which means the shift and change is merely moving out of the family home, village or town or 3). when there does not appear to be a physical move or change on the horizon, but there will without question be a psychological shift of some measure...

For the full article please visit RootPalmisty: http://rootpalmistry.com/content/?p=516

...The person with a double life line or with an overlap has a specific psychological desire for exploration and some form of change. They will feel a need to branch out, explore and see a new side of life. There is a need to experience something different from their up­bringing and this always manifests as a relative sense of curiosity and adventure. It shows that in some form the person will have a positive, more adventurous side to themselves and though it does not necessarily mean distancing themselves from the family, this is the easiest way to conceptualise it; movement, branching out and a change in perception. Due to the line overlapping on the outside, it is viewed as a step towards the outer world and one that opens the person to many more possibilities...

For the full article please visit RootPalmisty: http://rootpalmistry.com/content/?p=516
Hi lawrence
wonderful explanation good Job
Nisha Ghai
---
Permissions in this forum:
You
cannot
reply to topics in this forum