Who is online?
In total there are
25
users online :: 0 Registered, 0 Hidden and 25 Guests
None
Most users ever online was
365
on Fri Dec 02, 2022 7:35 am
Moderators & partners
• Discover the Modern Hand Reading Forum partners:

• Modern Hand Reading Forum Partners
Statistics
We have
5933
registered users
The newest registered user is
Skylines3
Our users have posted a total of
47481
messages in
4934
subjects
Top posting users this month
Top posting users this week
Recommendations
• The FREE hand reading services at the Modern Hand Reading Forum are being continued in 2019 with the assistance of

G

o

o

g

l

e

adsense!
Google+
MAJOR HAND READING SYNONYMS
Palmistry, Palm Reading, Hand Analysis, Chirology & Chiromancy.
Learn how to read hands according the Modern Hand Reading paradigm & you can use this forum as your palm reading guide!
In 1943 Cummins & Midlo presented their marvelous "Finger Prints, Palms and Soles", which e.g. presents a model which they named: 'a family tree of finger-print types': see the picture below.
NOTICE: This model presents an interesting perspective on how various types of fingerprints are related: starting with the 'concentric whorl' (which sort of raises associations with various phenomena - such as: a solar system in the cosmos, or force fields in the atmosphere, hair streams on the human body, etc.), and ending with the 'arch' (which raises associations with more stable, inert phenomena).
For more details, see: http://books.google.com/books?id=JslqAAAAMAAJ (and a few more details about this book are described in Ed Campbell' article:
Fingerprints & Palmar Dermatoglyphics
)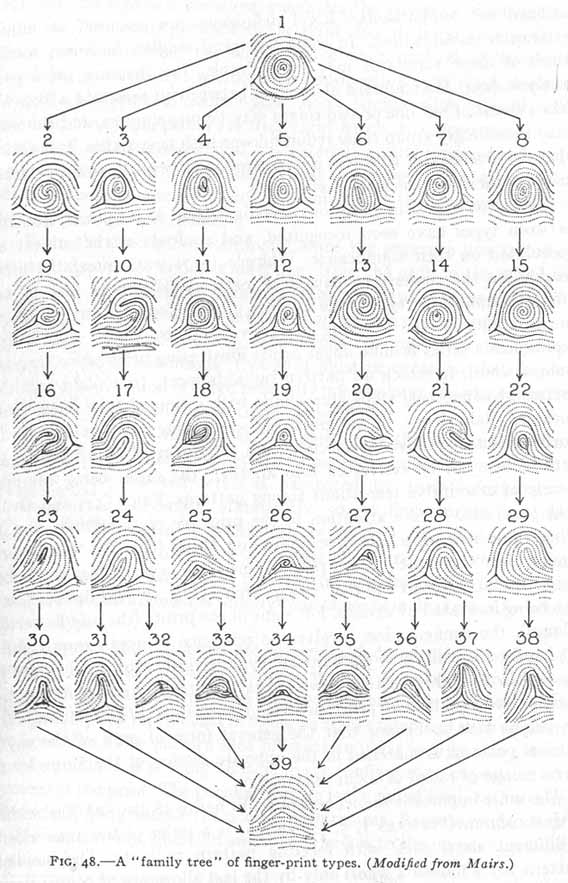 In line with the fingerprint model, I decided to delveop a likewise model for the 3 major hand lines (life line, heart line & head line); you can see the result below!
NOTICE: The 'family tree of major hand lines' (based on the PIC model) has already found it's first applications. For example, it demonstrates why certain hand line combinations are much more common than others (see the colors of the arrows!).
But this new model has also become a very helpfull tool in identifying multiple asymmetries between the right hand and left hand... which appear to correlate with intelligence!
The first article describes the fundamentals of the 'family tree of major hand lines', which directly relates to the 3 principles described by the PIC model.
http://www.handresearch.com/diagnostics/palmar-creases-hand-lines-pic.htm
The second article describes how these asymmetries appear to correlate with intelligence (see: pagragraph 3, conclusion III-1):
http://www.handresearch.com/diagnostics/hand-line-studies-formations-in-lines.htm
PS. The formation of the palmar lines is related to the formation of the palmar dermatoglyphics, but the lines are formally not a part of the dermatoglyphics.

Dear Martijn:

You have done a great service to palmists by posting "A 'family tree' of fingerprints... AND the 3 major hand lines!" with various links. Thank you very much.

It is a coincidence that I am writing to you at the fag end of 2011. During this year I have read many articles by you. Some were hard to digest initially. Thank you again for such posts during this year.

We are all busy with our various activities and tend to forget many things. Before long, we will see the dawn of 2012, an interesting year, as forecast by the followers of the Mayan calendar. We are destined to be witnesses of swift changes in every field and walk of life.

In the midst of all this "sound and fury", Sir, let me wish you

A VERY HAPPY AND PROSPEROUS NEW YEAR, FULL OF HEALTH, WEALTH AND WISDOM.

With very warm and respectful feelings,

Yours truly,

Anthony Writer

jophiel




Posts

: 51


Join date

: 2011-12-26


Age

: 76


Location

: Thane, Maharashtra, India



Hello Anthony Writer,
Thank you for your kinds words & for sharing your thoughts!
---
Permissions in this forum:
You
cannot
reply to topics in this forum