Who is online?
In total there are
37
users online :: 0 Registered, 0 Hidden and 37 Guests
None
Most users ever online was
365
on Fri Dec 02, 2022 7:35 am
Moderators & partners
• Discover the Modern Hand Reading Forum partners:

• Modern Hand Reading Forum Partners
Statistics
We have
5933
registered users
The newest registered user is
Skylines3
Our users have posted a total of
47481
messages in
4934
subjects
Top posting users this month
Top posting users this week
Recommendations
• The FREE hand reading services at the Modern Hand Reading Forum are being continued in 2019 with the assistance of

G

o

o

g

l

e

adsense!
Google+
MAJOR HAND READING SYNONYMS
Palmistry, Palm Reading, Hand Analysis, Chirology & Chiromancy.
Learn how to read hands according the Modern Hand Reading paradigm & you can use this forum as your palm reading guide!
Recently, multiple requests were made to introduce at this forum case studies on multiple topics. Studies on various medical problems and psychological topics will soon follow, but I decide to make a 'kick-off' nn a more spicy topic:
SADOMASOCHISM - a.k.a. the art of S&M, or SM sex!
NOTICE: The word 'sadomasochism' is a composition of the words 'sadism' & 'masochism'. Sadism is pleasure in infliction of pain or humiliation upon another person, while masochism is pleasure in receiving the pain.
But first, a word of ...
... 'discipline'!
Any member is welcome to participate in this discussion, but
... do not 'spam' this topic with any info about sadomasochism - the above words (and the 'emoticon') should be just enough to understand what this topic is about!!
(
)
Now, then...
...time to get focussed on the serious aspect of this topic:
For a start, I will introduce here a few examples of 'sadomasochism' that have been presented in the palmistry literature:
>> The following two example are found in Nathaniel Altman's book "Sexual Palmistry: What Your Hand Reveals About Love, Sex, and Relationships";
EXAMPLE 1)
Quote from the book 'Sexual Palmistry' (page 146):
"The hand of a 32-year-old cameraman and video engineer. Of all the people whose hand prints are reproduced in this book, this man's sexual history is perhaps the most unusual. Bisexual and involved with sado-masochism with both women and men, he has been sexually active since childhood."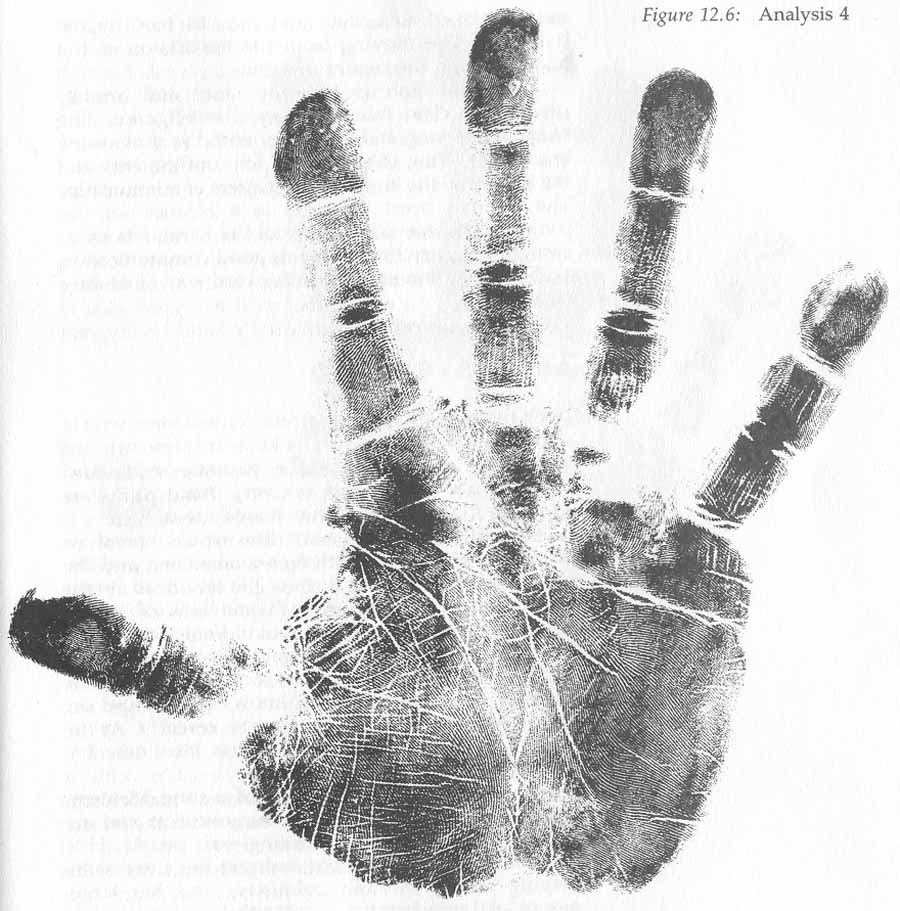 EXAMPLE 2)
Quote from the book 'Sexual Palmistry' (page 110):
"24 year-old-bisexual woman who is involved in sado-masochistic sex."
>> Another example is found in Nathaniel Altman's new book 'Palmistry: The Universal Guide':
EXAMPLE 3)
Quote from the book 'Palmistry: The Universal Guide' (page 116):
"During the mid 1980's, I began a correspondance with the late Gregory Leo, an English palmist who was involved in the practice of bondage, domination, masochism, and sadomasochism, collectively known as BDSM."
http://books.google.com/books?id=N_0-fedGH04C&lpg=PA117&dq=sadomasochism%20palmistry%20Gregory%20Leo&pg=PA117#v=onepage&q&f=false
Now... what do these hands have in common?
A few observations that can be seen in all three examples:
- lines: a splitting heartline under the middle finger, with the lower branch cutting through the 'dissociated headline'; the girdle of venus manifest as a (partial) 'passion line';
- overdeveloped thumb mouse (mount of venus)... possibly combined with a rigid thumb;
- low 2D:4D ratio.
Be welcome to share your thoughts & observations, and if possible: you can share other hand- & handprint examples of sadomasochism (but any inappropriate content will be deleted!).
Hi Martijn,

Great topic. It seems to me that the 5th fingers in examples 1,2 (can't see example 3) may be low set and perhaps shorter than average. I have palm prints of a transvestite. Not sure he is into SM but definitely unusual and very very heightened attitude to sex. I will have to ask him for permission if I can get hold of him.. or possibly pm you the photos if interested. He has a very clear passion line.

Boaz

zaobhand




Posts

: 751


Join date

: 2010-08-10



Hello Boaz,
Did you notice that the 3th example is featured with a link to Nathaniel Altman's book? See:
http://books.google.com/books?id=N_0-fedGH04C&lpg=PA117&dq=sadomasochism%20palmistry%20Gregory%20Leo&pg=PA117#v=onepage&q&f=false
By the way, there is
no direct connection at all between SM and 'cross-dressing', nor 'transsexuality'
. I could even imagine that the person that you have in mind might feel offended if you ask if he is 'also' involved in SM-sex (though maybe these people are getting used these days to being confronted with such questions
).
But you're right that in the first 2 examples the pinky is 'low set' - but might just be coincidence... for, in the third example the pinky has a clear 'high setting' (and the pinky is normal).
And thus, so far I don't think there is connection between SM preference and the pinky finger.
Thank you for your attempt!!
PS. It would be great if you can share the handprint anonymously, but then please create a new topic - for the reason that I described above!
Hello Martijn,
Altman's book shows in the link but it stops after page 116. Perhaps different permissions are set by google for different countries (I'm currently in NY)? Anybody else getting: "you have reached either a page that is unavailable for viewing.."?
Makes sense that transexual and cross-dressing is not associated with SM, but somehow I had a feeling that he may also have an inclination toward SM if only implicitly.
I will definitely open open new topic should he give me his permission.
Boaz

zaobhand




Posts

: 751


Join date

: 2010-08-10



Johnny Fincham sent me these SM handprints for this discussion.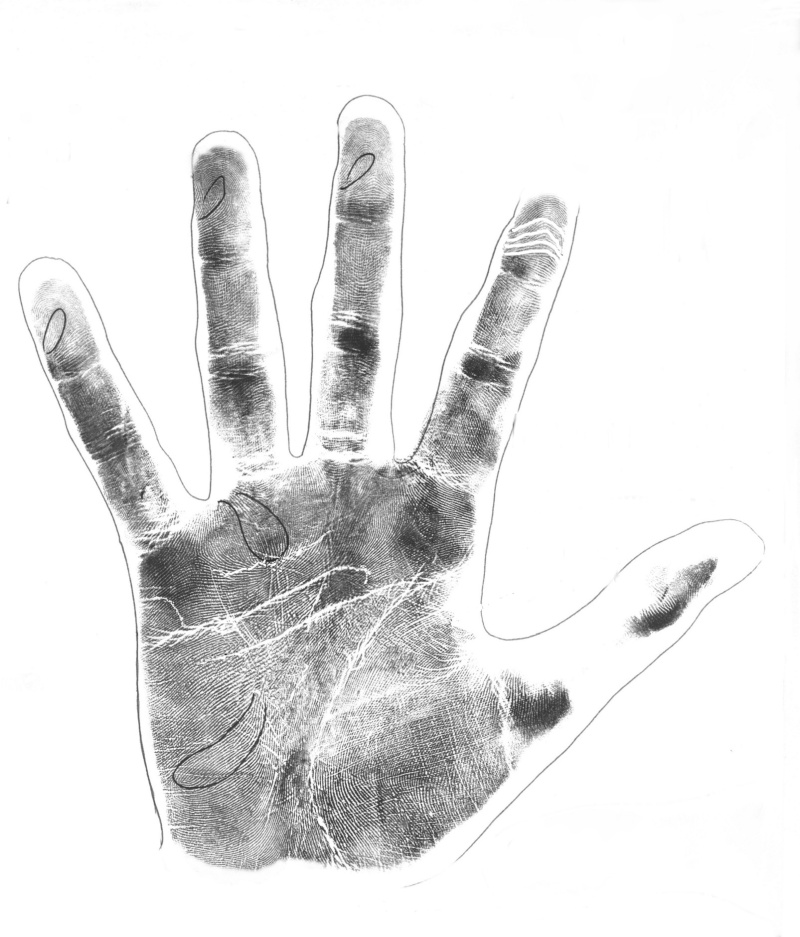 Thanks Lynn and Johnny,

These two examples show "affection" lines that strongly dip toward heart line. Also narrow space between heart and mental lines. There are other patterns about the emotions.

Boaz

zaobhand




Posts

: 751


Join date

: 2010-08-10




Thanks Lynn,

Interesting... a few observations:

* Johnny's first example:
- another (very) low 2D:4D ratio
- heart line is short, with a 'falling' branch
- strange 'flat' girdle of venus

* Johnny's second example:
- another disociated head line
- another passion line
Hi and thank you Lynne for posting these.

Here is a bit of input, but is only from personal experience and reading. The heart line being so flat indicates more feminine traits, but with the reverse hook a preference for own sex, however I find something a bit dark in the hook but have no way of expressing it and ending under Saturn, a strong focus on self satisfaction.

The flat Girdle of Venus heightens feelings of not being given the attention they feel is appropriate and the narrow quadrangle means a very strong tendency to keep this feeling to themselves.

The line of affection heading steeply down I have found to indicate a problem with the partner, whether it be death, psychotic episodes- the person changes beyond the perception of the sitter.

The criss-crossing is said to a indicate flirtatious nature, the Mount of Venus extends a long way across the palm, indicating a strong sensual nature, yet the thenar line cuts in which often indicates a lessening of desire. Maybe this is then reinforcing a sadomasochistic tendency to subject oneself to one's carnal desires while beating oneself up psychically.
A loop of Vanity and dowser's loop are again sort of counter opposition to each other. One heightening the qualities of Apollo and vanity, the other heightening the earth aspect.
The low set Index finger is supposedly associated with homosexuality.

Felicity
Interesting observations Felicity and Martijn!

It seems like the flow of energy as conveyed by the ridges is blocked on many accounts. For example, the ring finger is isolated by the flat girdle of Venus. The ridge lines are blocked by the plunging affection line; in addition the ridge lines from Jupiter are denied access by the hook.

Boaz

zaobhand




Posts

: 751


Join date

: 2010-08-10



---
Permissions in this forum:
You
cannot
reply to topics in this forum