Who is online?
In total there are
53
users online :: 0 Registered, 0 Hidden and 53 Guests
None
Most users ever online was
365
on Fri Dec 02, 2022 7:35 am
Moderators & partners
• Discover the Modern Hand Reading Forum partners:

• Modern Hand Reading Forum Partners
Statistics
We have
5933
registered users
The newest registered user is
Skylines3
Our users have posted a total of
47481
messages in
4934
subjects
Top posting users this month
Top posting users this week
Recommendations
• The FREE hand reading services at the Modern Hand Reading Forum are being continued in 2019 with the assistance of

G

o

o

g

l

e

adsense!
Google+
MAJOR HAND READING SYNONYMS
Palmistry, Palm Reading, Hand Analysis, Chirology & Chiromancy.
Learn how to read hands according the Modern Hand Reading paradigm & you can use this forum as your palm reading guide!
Can someone recommend a good primer on palmistry that would answer questions like these:
In reading about palmistry on the internet, I have often seen the words 'a well developed mount'. What does that mean? I have never seen an explanation as to what they mean by that.
I keep reading or hearing palmists say that fingerprints never change like palm prints. But is that true? I understand that the dermal ridges on fingers never change. But I have developed lines on my fingers that cut into the ridge patterns. Just like on the palm. Shouldn't they also say that palm prints never change? Or do the dermal ridge patterns on the palm actually change? Why the difference?

mooky




Posts

: 102


Join date

: 2011-03-30


Age

: 65


Location

: Michigan, USA



Hi Mooky:

The book for you to get that will answer all your questions is Johnny Fincham's The Spellbinding Power of Palmistry.

A well developed mount means a the mount is very raised. He does cover the mounts and the significance.

As for the lines on your fingertips, those are endocrine issues. This is commonly seen on women during menopause.

Cheers!
Lori

Lori




Posts

: 32


Join date

: 2010-09-16



The universal suggestion for this question would be related to learning astrology . you can co-relate this with palmistry ever better than any other school of palmistry. I say a single and simple example here. If you born on wednesday, your mercury mount will be well developed. Likewise for all mounts. :-)


sv-b




Posts

: 615


Join date

: 2010-10-20



Lynn,
Excellent. I will pick up that book.
Stalin,
Thank you. Good to know. I was in fact born on a Wednesday.
But, I cannot see on my own hand that my mercury mount is any different than the others. Obviously I will need experience looking at hands to appreciate this fully.
Thank you both

mooky




Posts

: 102


Join date

: 2011-03-30


Age

: 65


Location

: Michigan, USA



hi Mooky, thanks for thanking me, but it was Lori who posted! :-)
I can also recommend Johnny's book, but if you are looking for fundamentals about mounts, I would go back 110 years to Benham's book "The Laws of Scientific Hand Reading" also reprinted as Benham Book of Palmistry. I think this is the best book for studying mounts. Tho actually after I studied mounts for 3 years I found they don't tell you much that can't be found from other areas of the hand.
Oops! I have been reading too many posts.
Thank you Lori !!
And thank you Lynn for the added information. Does that old book have photos? The simplest thing for me would be to see two photos side by side. This one is well developed (condos, shops, office block, roads) verses another which is not well developed (a basic grassy field).
I'll have to go see what is available in the bookstore.
Thank you all again

mooky




Posts

: 102


Join date

: 2011-03-30


Age

: 65


Location

: Michigan, USA



It has some interesting photos of abnormally short fingers etc which are fascinating!
scanned this for you (not all mounts have images as well compared as Mars)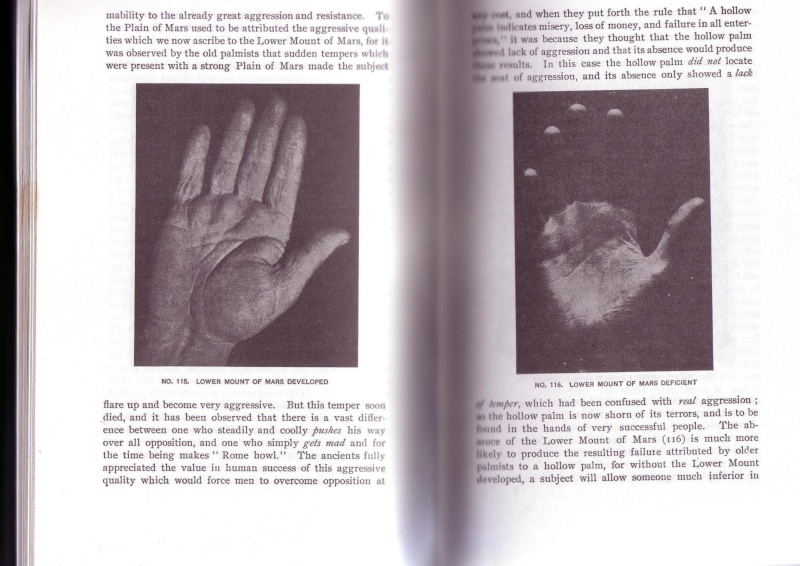 I just remembered, you can download Benham's book here, pdf file, over 30MB in size!

http://www.illuminatetoday.com/files/downloads/William-Benham-laws-of-scientific-handreading.pdf
Lynn,
That is so nice of you! I can see in the images the difference. As with anything, I can see that there is a spectrum of mount development. Well developed, just so-so, and deficient (to over-simplify). Experience will be the key for me.
Regarding the book download, that is awesome! Now I can stop with all the rudimentary questions and do some reading. I also bought Cheiro's "Palmistry For All" on the Apple App Store for my iPad. Only $1.99 (just a little over a quid).
Thank you, thank you. (what a great forum)

mooky




Posts

: 102


Join date

: 2011-03-30


Age

: 65


Location

: Michigan, USA



Similar topics
---
Permissions in this forum:
You
cannot
reply to topics in this forum