Who is online?
In total there are
22
users online :: 0 Registered, 0 Hidden and 22 Guests
None
Most users ever online was
365
on Fri Dec 02, 2022 7:35 am
Moderators & partners
• Discover the Modern Hand Reading Forum partners:

• Modern Hand Reading Forum Partners
Statistics
We have
5933
registered users
The newest registered user is
Skylines3
Our users have posted a total of
47481
messages in
4934
subjects
Top posting users this month
Top posting users this week
Recommendations
• The FREE hand reading services at the Modern Hand Reading Forum are being continued in 2019 with the assistance of

G

o

o

g

l

e

adsense!
Google+
MAJOR HAND READING SYNONYMS
Palmistry, Palm Reading, Hand Analysis, Chirology & Chiromancy.
Learn how to read hands according the Modern Hand Reading paradigm & you can use this forum as your palm reading guide!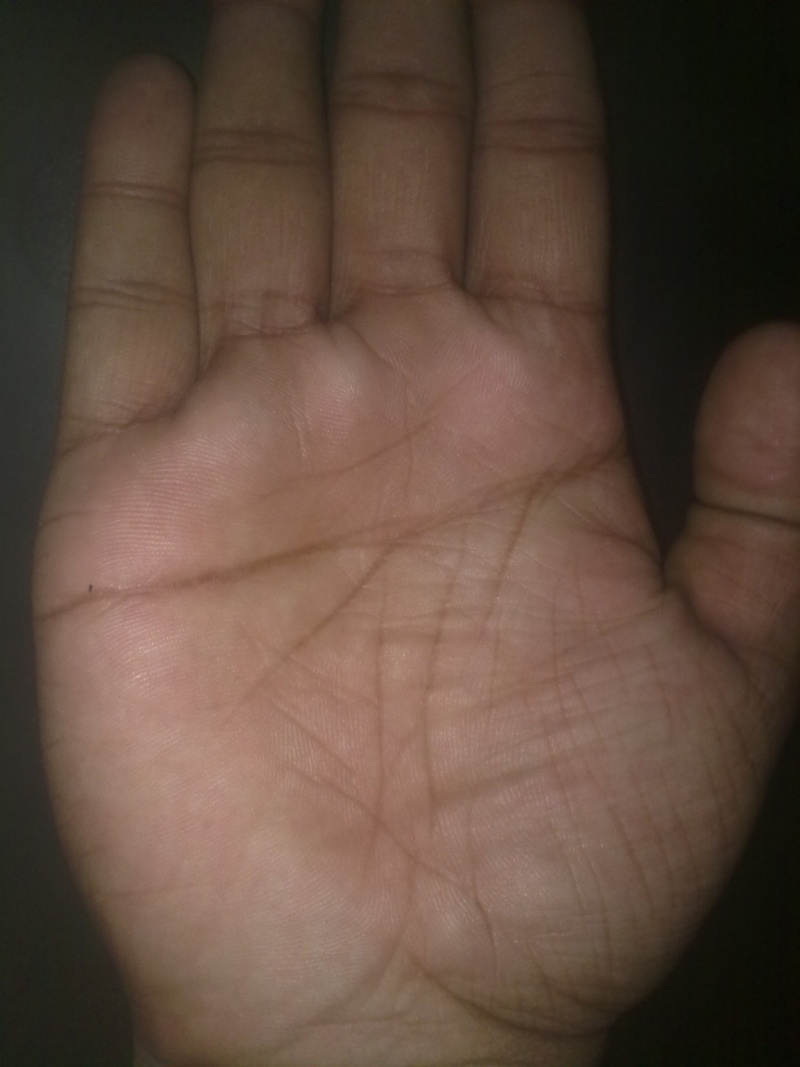 what is my hand say. I Don't know any thing about my hand... Can you please tel me how about that..

mohan_w




Posts

: 4


Join date

: 2012-01-23




mohan_w




Posts

: 4


Join date

: 2012-01-23



mohan_w wrote:Plz any one comment this
What you have in your hand is a simian line.Not very uncommon but is significant in the sense that two lines are fused into one as you can see in your hand.
Do you have difficulty controlling anger?
Regards
Raman

Ramann




Posts

: 336


Join date

: 2011-07-19


Age

: 41


Location

: New Delhi



Yes. not very angry but little bit..
can you say more about hows my plam rules...

mohan_w




Posts

: 4


Join date

: 2012-01-23



mohan_w wrote:
hows my plam rules...
Hello Mohan,
Thanks for the reply and response.I do not understand what you mean by hows my palm rules.You can have your queries and preferably if you can post some clear images of the hand.
You can also invite some other members to give you a brief reading but request if you can spare some time to give a feedback to all who post a reply in response.
My Warm Regards
Raman

Ramann




Posts

: 336


Join date

: 2011-07-19


Age

: 41


Location

: New Delhi



Thank your quick reply,
https://i.servimg.com/u/f41/17/21/14/23/01232010.jpg
That is the best image i have. it has all rules on my Plam. i'm very interest about. Why i have that kind of rules on my plam. Can you tell me it's special?

mohan_w




Posts

: 4


Join date

: 2012-01-23



Mohan, please upload both palm pics.
It will be helpful in giving a clear reading.

However, speaking with the picture posted here: You tend to reason out your emotions, feelings, desires, wishes. You need a reason to like/dislike something. It can't be like - "I like something, just 'coz I like it". There should be a reason for it. And you'll always find a reason - which is more of the beauty, the fairy side, the design, color etc...which is more of a artistic side of it.

You're person who appreciate beauty, fairy tales anything which captures your strong imagination. But, analyzing or observing anything - to begin with you'll always be in doubt, confused, thinking a bit more and getting strained. This is also reflected when you tend to think or analyze anything practically - where you have to maintain regularity, be systematic and structured. But, as you progress and understand the matter at hand clearly( after lots of struggle and confusion) and start appreciating its design, beauty, situation, ( can be anything about which you're thinking ), that you'll find it more interesting and attractive.

In any relations, you will first look after your needs and desires and then get into the needs and wishes, desires of others. However, you don't tend to verbalize your wishes and desires. You would keep them with yourself. There is an expectation of loyalty and commitment from others. And you would give the same to others.

Given a task at hand, when faced with difficulties and obstructions, you may not face it with a stiff stand. You would need more will and determination for pursuing your wishes, dreams and goals. That's why there might be switching of activities, tasks. You're not very sure of what you want to pursue in the long term, which job you would like to take, where would you want to go, what is it that you value etc.

If you can pls put a more clear picture and also a picture of the left hand, we can read more.
Note: This is a right hand pic. Whatever is said above tells about your outward life - the life you live outside, with society, friends, colleagues etc.
Will appreciate your feedback.

Thank you,
Warm regards,
Kiran



Hello,
I firstly noted your life line which is not grounded. I recommend you do things in your life which ground you. What I mean by that is finding something which you do at regular intervals and times. Regular meals, exercise, and things in moderation. Try not to be obsessed about one thing and put your life out of balance. If you are seeking a partner, I recommend someone who will ground you by having a steady job, steady personality. If this is not possible, then you should travel and just go with your 'ungroundedness' he hee, sorry that's not a word. Travel and exciting things might be good for you especially if someone else is doing the same with you. Depends what you want out of life? Either way, you have a sensitivity to being obsessed, the positive in this is if you focus on something, you will surely succeed!
Hi Mohan
I appreciate Sari's comments on your Earth line regarding need for grounding. I hadn't thought of the line in those terms and it makes so much sense to me. Good advice and I appreciate learning from others!
The shorter Earth line indicates restlessness The adjacent Earth line indicates no set lifestyle or a belonging to two lifestyles. Can you relate to this Mohan?
Thanks!

Lori




Posts

: 32


Join date

: 2010-09-16



---
Permissions in this forum:
You
cannot
reply to topics in this forum