Who is online?
In total there are
28
users online :: 0 Registered, 0 Hidden and 28 Guests
None
Most users ever online was
365
on Fri Dec 02, 2022 7:35 am
Moderators & partners
• Discover the Modern Hand Reading Forum partners:

• Modern Hand Reading Forum Partners
Statistics
We have
5933
registered users
The newest registered user is
Skylines3
Our users have posted a total of
47484
messages in
4936
subjects
Top posting users this week
Recommendations
• The FREE hand reading services at the Modern Hand Reading Forum are being continued in 2019 with the assistance of

G

o

o

g

l

e

adsense!
Google+
MAJOR HAND READING SYNONYMS
Palmistry, Palm Reading, Hand Analysis, Chirology & Chiromancy.
Learn how to read hands according the Modern Hand Reading paradigm & you can use this forum as your palm reading guide!
+5
Parender
Lynn
Felicity Martin
Patti
Alluma Nati
9 posters
Page 2 of 2 •
1, 2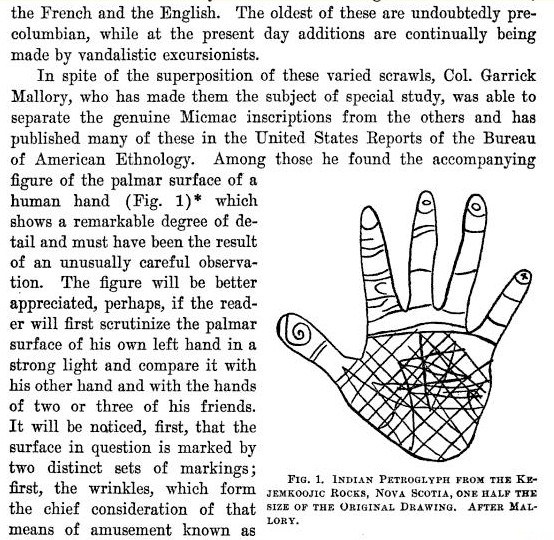 from an article published in
Popular Science
by Harris Hawthorne Wilder, PhD. called "Scientific Palmistry" November 1902.
This article can be read in its entirety at Google books.
The petroglyph may date back as far as 11,000 years!
"
Mi'kmaq
The oldest evidence of humans in Nova Scotia indicates the Paleo-Indians were the first, approximately 11,000 years ago. Natives are believed to have been present in the area between 11,000 and 5,000 years ago."
http://en.wikipedia.org/wiki/History_of_Nova_Scotia
Apparently this ancient artist saw a star like pattern in their palm.

Patti




Posts

: 3912


Join date

: 2010-07-24



Thanks for that Patti, I haven't seen that info before and just as I was thinking of what to say next some crows outside my window started cawing letting me and all of you know that the Pentagram is one of the biggest signs symbolically that Past Lives are real and people have known about this all along but either don't know about it cause they never thought about it, they haven't read all the facts or they are just ignorant to the truth for it goes against what they personally believe in...

It's okay to believe in whatever you want to believe in I just happen to believe in Past Lives, and with My Pentagram and my Birth Date I know who I am though I will not tell anyone for you will not believe me anyways... after all, I've had many names throughout history so it's hard choosing one of them...



Alluma Nati




Posts

: 14


Join date

: 2012-02-09



Hi!! Well I was led here because I have a pentagram on my palm. Reading through all the posts, it was really eye opening. I only discovered the pentagram a few years back. It does look special but curiosity only struck me recently.

My palm lines are messy and vague but there is a pentagram formed by the head, life, fate and money lines. Amazing right!!! Oh by the way I am a Taurus too. I never has my palm lines read or my fortune told. I always believe living in NOW.

Cheers everyone!!! Stay happy and healthy always.

kasumi




Posts

: 1


Join date

: 2012-07-12



Hi everyone!
I found this thread and for a years (between 7 and 10) I've been intrigued by a perfectly designed and clear pentagram I have in my right hand. I googled for "pentagram in palm lines" and the few pictures of occurrences are not even close to mine's perfection.
Please have a look at it:
What could this mean?
I actually had somewhat of a special relation with this symbol in my early stages of adult life (between 17 and 25 years old), while I only realized that I have this in my hand when I was between 27 and 30 years.
I thought it was more common, but after I searched for it the only 2 or 3 palm pictures on the web that showed the same occurrence are not even close in perfection to mine.
Any opinions are more than welcome.
All the best and kind regards,
TLG

Tommy LG




Posts

: 2


Join date

: 2017-03-30



Hello Tommy LG,
Sorry, I do not see any pentagram at all (also not an 'imperfect' pentagram).
Be aware: in order to speak of a sign one should preferably use the principle that the lines really need to stand on it's own... and should not be found in a constellation of lines that continue far beyond the borders of the 'sign' (pentagram) that you have in mind.
I hope this feedback will somehow become useful for you.
Greetings from The Netherlands!
Hi Martijn! Hoe gaat het?

Thank you very much for your reply.

I understand your explanation. I perfectly understand what you say about it having no practical meaning due to the fact of it being found in a constellation of lines that continue far beyond the borders of the "sign". It makes perfect sense.

So after your useful help, my conclusion is that this occurrence has not practical meaning in hand reading, palm reading or palmistry "science" (sorry for calling it "science", but no other term occurred to me), but nonetheless and although it is within constellation lines, it is there and the probabilities of being there in the way that it is there, might be very, very reduced.

In just few words: it has no meaning but it is rare (and personally symbolic to me).

This is the conclusion I'm taking at this point. But a very personal conclusion, so I accept and I'm happy if the majority of the other users of the forum may not feel the same.

Thanks again. All the best and kind regards,

Tommy

Tommy LG




Posts

: 2


Join date

: 2017-03-30



To alluma nati.... I was born may 5th,I'm the 5th child and yes...5 follows me around. I do indeed have a pentagram on my right hand tho it is not my dominant hand. I've learned that researching the number 5 may help you in your journey. Though I'm years late in finding this page unfortunately. I also think it would be interesting to study those who have pentagrams on their hands. I've dreamt that there were others out there, whatever is the light, wants me to find them.

Cattblack5




Posts

: 1


Join date

: 2019-11-07



Page 2 of 2 •
1, 2
---
Permissions in this forum:
You
cannot
reply to topics in this forum