Who is online?
In total there are
32
users online :: 0 Registered, 0 Hidden and 32 Guests
None
Most users ever online was
387
on Tue Dec 05, 2023 7:35 pm
Moderators & partners
• Discover the Modern Hand Reading Forum partners:

• Modern Hand Reading Forum Partners
Statistics
We have
5933
registered users
The newest registered user is
Skylines3
Our users have posted a total of
47484
messages in
4936
subjects
Top posting users this month
Top posting users this week
Recommendations
• The FREE hand reading services at the Modern Hand Reading Forum are being continued in 2019 with the assistance of

G

o

o

g

l

e

adsense!
Google+
MAJOR HAND READING SYNONYMS
Palmistry, Palm Reading, Hand Analysis, Chirology & Chiromancy.
Learn how to read hands according the Modern Hand Reading paradigm & you can use this forum as your palm reading guide!
Muhammad Ali "The Greatest", became world champion heavyweight boxing at age 22; and he is generally considered to be one of the greatest heavyweights of all time by boxing commentators and historians. Later he became also known as a philanthropist, social activist, and a cultural icon.
Ali brought beauty and grace to the most uncompromising of sports (boxing) and through the wonderful excesses of skill and character.
In 1999, Ali was crowned "Sportsman of the Century" by Sports Illustrated, and "Sports Personality of the Century" by the BBC.
NOTICE: Some say (believe) that Muhammad Ali had a simian line, but he does not have the 'single palmar transverse crease' - see the picture above and below.
Last edited by Martijn (admin) on Sun Sep 07, 2014 3:25 pm; edited 4 times in total
Last year Mohammad Ali's hand print was for sale at eBay for $1,299.99:
http://internetartgallery.org/blog/2012/02/14/muhammad-ali-hand-print-of-boxings-greatest/
(The hand print clearly shows that his heart line is not connected with the head line)
Last edited by Martijn (admin) on Sun Jul 05, 2015 2:07 pm; edited 2 times in total
"I am the greatest!"
Ali was never shy to proclaim that he was the best boxer in the world.
Though, sometimes...
RIP Muhammad Ali (born Cassius Marcellus Clay, Jr.)  January 17, 1942 – June 3, 2016
It appears that some people have continued to believe that Muhammad Ali had a simian line, but these picture show for both hands that there is a considerably large space found between his heart- and head lines.
Technically, hands where the heart line connects with the fused part of the head- and life line can be recognized to represent an example of a 'single radial base crease', which in this variant sort of represents an intermediate variant between a simian crease and a Suwon crease (a Suwon 3 variant, where the lower red Suwon line part connects with the radial part of the head line - see the 4th picture below)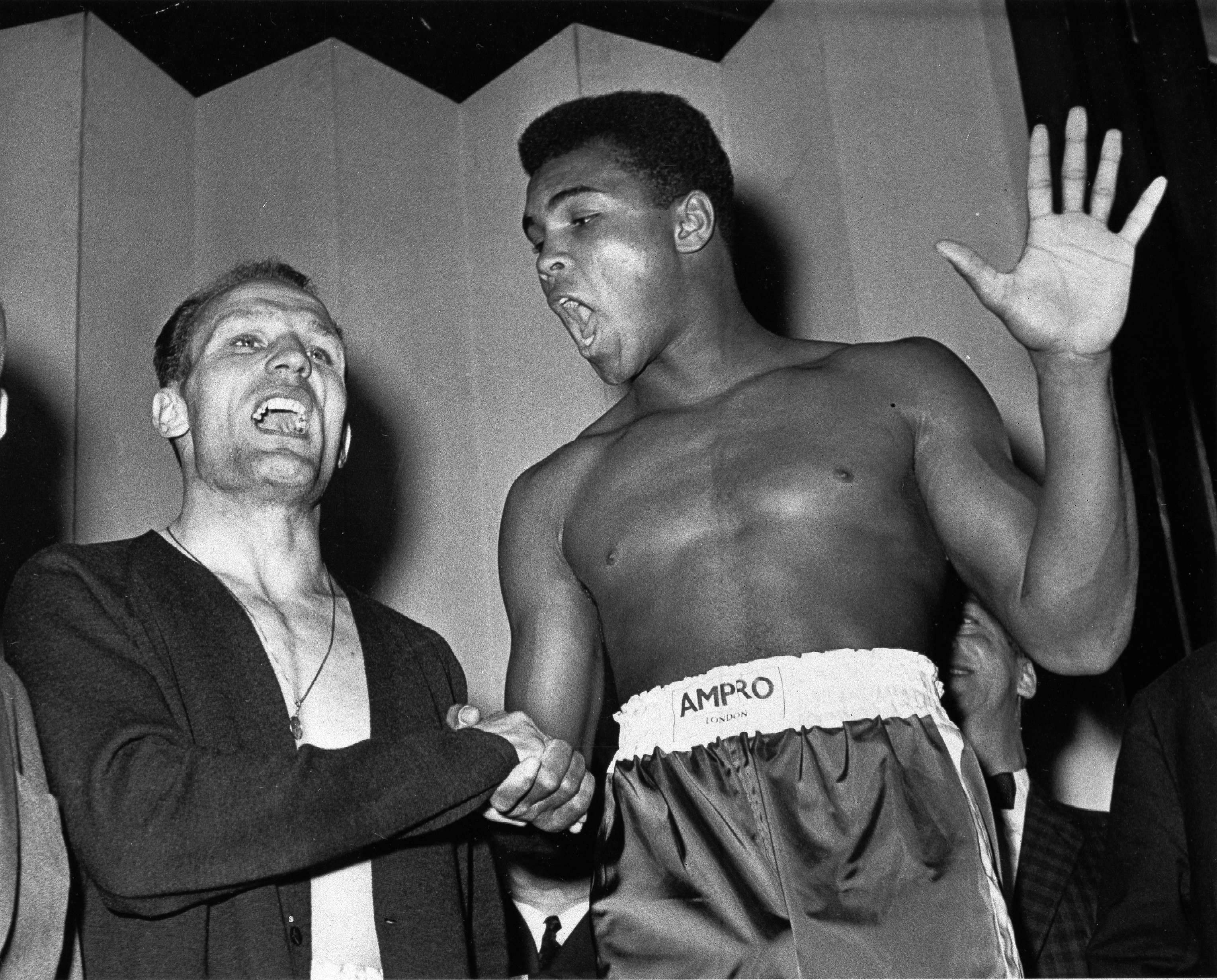 One more impression of Muhammad Ali's left hand, definitely no simian line... the hand cast (print) was probably overemphasizing the presence of at bast a bride-like formation between his heart line and head line.
This photo suggests that both hands can both be described to have basically just a normal formation:
---
Permissions in this forum:
You
cannot
reply to topics in this forum