Who is online?
In total there are
22
users online :: 0 Registered, 0 Hidden and 22 Guests
None
Most users ever online was
387
on Tue Dec 05, 2023 7:35 pm
Moderators & partners
• Discover the Modern Hand Reading Forum partners:

• Modern Hand Reading Forum Partners
Statistics
We have
5933
registered users
The newest registered user is
Skylines3
Our users have posted a total of
47484
messages in
4936
subjects
Top posting users this month
Top posting users this week
Recommendations
• The FREE hand reading services at the Modern Hand Reading Forum are being continued in 2019 with the assistance of

G

o

o

g

l

e

adsense!
Google+
MAJOR HAND READING SYNONYMS
Palmistry, Palm Reading, Hand Analysis, Chirology & Chiromancy.
Learn how to read hands according the Modern Hand Reading paradigm & you can use this forum as your palm reading guide!
+3
Lynn
Martijn (admin)
zodehala
7 posters
İ know that  this phalanx mean but others ???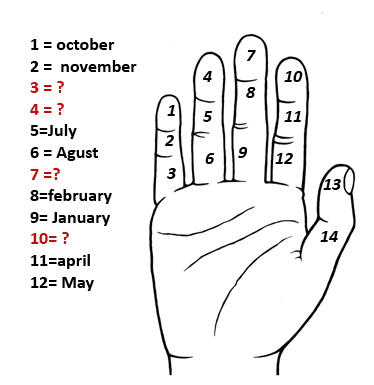 Last edited by Martijn (admin) on Fri Jan 22, 2016 5:32 pm; edited 1 time in total (Reason for editing : Title modification)

zodehala




Posts

: 9


Join date

: 2015-05-15



You can simply replace the months for the zodiac signs; in the traditional astro-palmistry approach for the zodiac signs is described by this old picture (source: Jean Baptiste Belot):
However, it appears that this classic model was not accurate because in time various other models became available such as:
(I am sure that there are other models available on the internet)
Conclusion:
there is obviously not much consensus for any of these models, and every model is probably created from conceptual considerations (based on astrological believes).
PS. In general, I am inclined to recommend to avoid the use of any astrological vocabulary, including the rather diffuse stereotypes involving the planetary archetypes... because there is not even a glimpse of (independent) research based evidence that supports any form of astro-palmistry.
hi zodehala,
In 25 years of palmistry study, I never saw these finger phalanx /month correlations before! Sorry I can't fill the gaps.
(edit PS) anyway how would you use it? 9=January what year? or middle phalanx Jupiter finger/April equates to what?
zodehala wrote:İ know that  this phalanx mean but others ???
Hi again Zodehala,
I just noticed that something is likely not quite right in your picture; can you please explain how did you made the connections displayed in your picture?
PS. I also wonder whether your name is an expression chosen in reference to the concept of the zodiac used in astrology?
Hi Martin,

Good post.

Thanks.

A few observations

a) In Mudra Shastra also we have these five elements against the fingers as listed.

b) Sun Signs are interesting but then what do we take ? Tropical or Sidereal? So not sure if this division would work or if so, how

sai_sada




Posts

: 10


Join date

: 2016-05-23



I'm also curious about Sun sign possibilties. I have four phalanges on my pinky and Mercury, Venus, the Sun, and Mars in azimuthal alignment. Venus is at azimuthal 90 degree longitude and the Sun at 100 by 50 degrees.

chowmanfu




Posts

: 3


Join date

: 2016-07-21



zodehala wrote:İ know that  this phalanx mean but others ???
the months and Zodiac signs mentioned here are as per Indian palmistry . There is reference of this in Astrological Classic book
Nisha Ghai
Nishaji,
In which book this is explained? What is the author of the Book, name of the book and the publisher.
nishaghai wrote:

zodehala wrote:İ know that  this phalanx mean but others ???

the months and Zodiac signs mentioned here are as per Indian palmistry .  There is reference of this in Astrological  Classic book

Nisha Ghai  
Thanks
Pravin Kumar

pravin kumar




Posts

: 5187


Join date

: 2010-09-30


Age

: 75


Location

: Bombay



pravin kumar wrote:Nishaji,

In which book this is explained? What is the author of the Book, name of the book and the publisher.

nishaghai wrote:

zodehala wrote:İ know that  this phalanx mean but others ???

the months and Zodiac signs mentioned here are as per Indian palmistry .  There is reference of this in Astrological  Classic book

Nisha Ghai  

.

Thanks

Pravin Kumar
The book is Indian palmistry classic an old one name is Kar lakhan its in Hindi . It is one of my collection
Nisha Ghai
---
Permissions in this forum:
You
cannot
reply to topics in this forum