Who is online?
In total there are
34
users online :: 0 Registered, 0 Hidden and 34 Guests
None
Most users ever online was
365
on Fri Dec 02, 2022 7:35 am
Moderators & partners
• Discover the Modern Hand Reading Forum partners:

• Modern Hand Reading Forum Partners
Statistics
We have
5933
registered users
The newest registered user is
Skylines3
Our users have posted a total of
47481
messages in
4934
subjects
Top posting users this month
Top posting users this week
Recommendations
• The FREE hand reading services at the Modern Hand Reading Forum are being continued in 2019 with the assistance of

G

o

o

g

l

e

adsense!
Google+
MAJOR HAND READING SYNONYMS
Palmistry, Palm Reading, Hand Analysis, Chirology & Chiromancy.
Learn how to read hands according the Modern Hand Reading paradigm & you can use this forum as your palm reading guide!
Naomi Campbell is a British supermodel who belongs to the most famous celebrities in the world - though she also became known as a 'notorious' personality because of a series of legal issues. She has made appearances on many famous catwalks in the world & cover pages of internationally renowned fashion magazines. But she became also famous for her 7 perfume brands that were launched since 2000. Her appearance in Michael Jackson's video clip
'
In the Closet
'
(1992) was an early milestone in her career as a model.
Naomi Cambell is also known as one of the most violent female celebrities in the world. Actually, nobody appears to be safe! Naomi Campbell was arrested for quite a few assaults, including: a personal assistent (2000), a reporter (2004), her personal assistent (2005), multiple housekeepers (2006, 2007), and a police officer (2008).
Recently (2010) she was was summoned by the war crimes trial against Charles Taylor at the UN-backed Special Court for Sierra Leone to give evidence on receiving a "blood diamond". Campbell admitted that she had received the diamonds - after meeting Charles Taylor, but denied knowing who gave them.
NAOMI CAMPBELL'S HANDS:


What are the most remarkable characteristic of Naomi Campbell's hand? Obviously, her beautiful, slender hands are a typical characteristic for a fashion model.
What causes her continued violent behavior? Unfortunately the photos do not reveal very many details of her hands. But the relatively large 'knuckle' where the thumb is inserted in the palm, could be recognized as a typical hand characteristic in an
'obsessive-compulsive personality disorder'
(source:
Holtzman's PsychoDiagnostic Chirology
).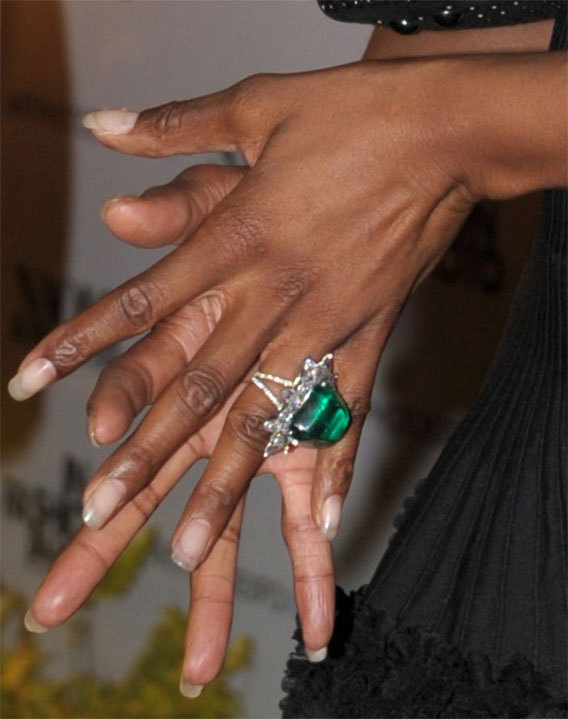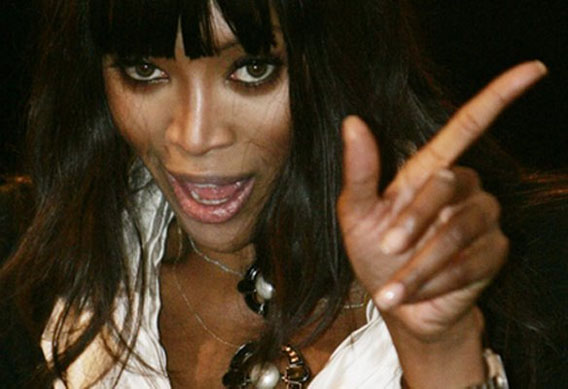 Last edited by Martijn (admin) on Wed Sep 29, 2010 10:59 am; edited 2 times in total
From the last picture, it is clear that the most significant lines are not on the palm
Ahem!

TruthSeeker




Posts

: 25


Join date

: 2010-07-27



TruthSeeker wrote:From the last picture, it is clear that the most significant lines are not on the palm

Ahem!
By the way, these 'lines' have an Jamaican origin... (her mother was a balet dancer from Afro-Jamaican descent). Off-topic, but Naomi's 'lines' remind me to Grace Jones - who was born in Jamaica!
Back to Naomi...
I just found this picture:
Interesting!! Her 'digit ratio' appears to be close to 0.94 (which is low, even for a Jamaican female!). And since the low '2D:4D digit ratio' has been associated with agression... it explains part of her behavior problem!
http://www.nana.hu/szolgaltatasokslidegaleria/?gid=10146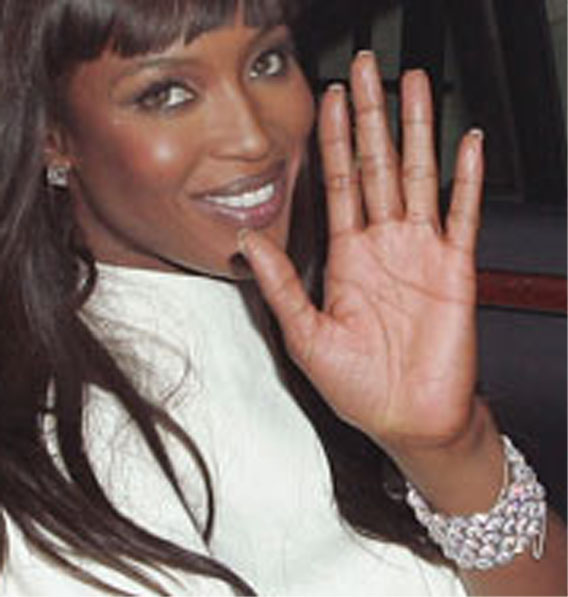 Can smb explain to me what is meant under "digit ratio". Have encountered this phrase many times here...

Foxtrot




Posts

: 5


Join date

: 2011-09-24



Hello Foxtrot,
Your question is answered at the forum section about the '2D:4D digit ratio' topic (= the ratio between the index finger and ring finger), see:
https://www.modernhandreadingforum.com/f39-iiii-2d4d-finger-ratio-digit-ratio
Hey,
I noticed straight away that her index finger leans toward Saturn, (like mine) and i know this as an insecurity which is built in, maybe due to her early childhood (like mine).
Anyway, what I'm really wanting to say
is that the photos of famous people are often so very wrong! This is a fine example. . Her hand photo is taken sideways, showing a shorter index, but if you were to take this photo upright, it would show up different. Let me show you the proof with my own images, I have taken a photo (now) of my palm sideways, and then upright. Can you see the difference in the length of my index finger? I don't believe this is an accurate way to analyze a person...My index doesn't look as short when held upright.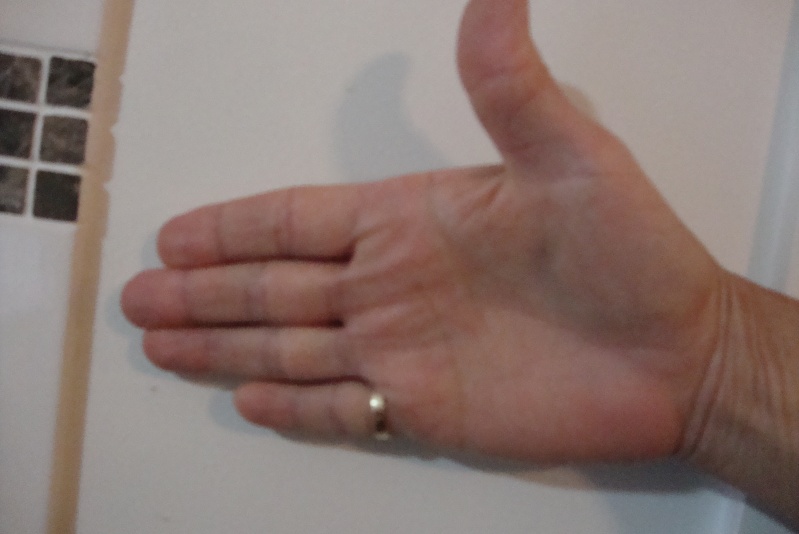 the other angle of my hand shows a different view altogether!
I have seen this happen many times, it depends on how you hold your hand as to how the fingers line up.
Last edited by Sari on Sat Oct 01, 2011 11:16 pm; edited 2 times in total (Reason for editing : added comment)
Hi Sari,
You've raised an important issue that always requires to be considered: yes, hand photos are very often deceiving (especially regarding finger lengths) - therefore I always try to collect a few photos before making considerations.
Now, back to Naomi's hand...
I am confident that my earlier conclusion were not far away from the truth. Because this handprint of Naomi's right hand confirms that here index finger is short AND her ring finger is relatively long:
Last edited by Martijn (admin) on Sun Aug 03, 2014 2:44 pm; edited 1 time in total
Thanks Martijn,
It does confirm with the hand held upright, and also the tip curving towards Saturn.
---
Permissions in this forum:
You
cannot
reply to topics in this forum