Who is online?
In total there are
14
users online :: 0 Registered, 0 Hidden and 14 Guests
None
Most users ever online was
365
on Fri Dec 02, 2022 7:35 am
Moderators & partners
• Discover the Modern Hand Reading Forum partners:

• Modern Hand Reading Forum Partners
Statistics
We have
5933
registered users
The newest registered user is
Skylines3
Our users have posted a total of
47481
messages in
4934
subjects
Top posting users this month
Top posting users this week
Recommendations
• The FREE hand reading services at the Modern Hand Reading Forum are being continued in 2019 with the assistance of

G

o

o

g

l

e

adsense!
Google+
MAJOR HAND READING SYNONYMS
Palmistry, Palm Reading, Hand Analysis, Chirology & Chiromancy.
Learn how to read hands according the Modern Hand Reading paradigm & you can use this forum as your palm reading guide!
A simian line poll for partents of babies who have Down's syndrome (= trisomy 21, mongolism), is available at BabyCenter.com:
http://community.babycenter.com/post/a27439119/simian_crease--who_has_one_poll?cpg=5&csi=2333925946&pd=4
The results so far (april 27 - may 1):
'Does your child have a single palmar crease?'
yes 41
no 54
Total Votes: 95
- NORMAL HAND LINES - vs. - THE SIMIAN LINE -
According the simian line statistics at my website these results so far (
43% of the children have a simian line in one or both hands
), confirm the statistics at my website, see:
Down syndrome [trisomie 21]
- China: 41.5 %
- Germany 31.5 %
- Italy 53.3 %
- Japan 48.0 %
- North-America M: 42.1 %, F: 31.6 %
- Sweden 28.8 %
Read more about the details at:
http://www.handresearch.com/diagnostics/simian-line-medical-problems.htm
1 - Simian crease -
in both hands
!
Prevalence: Down patients - males: 28.3 %, females: 23.4 %; controls: 4.0 % & 1.5 %
Read more about how to make a 'hand-diagnosis' for Down's syndrome at:
http://www.handresearch.com/diagnostics/simian-line-down-syndrome.htm
Hi,
I thought I'd share this pic, this young man is normal, very energetic, sporty and can get obsessed about stuff, but he is still young and I think he will do well. But no sign of downsyndrome.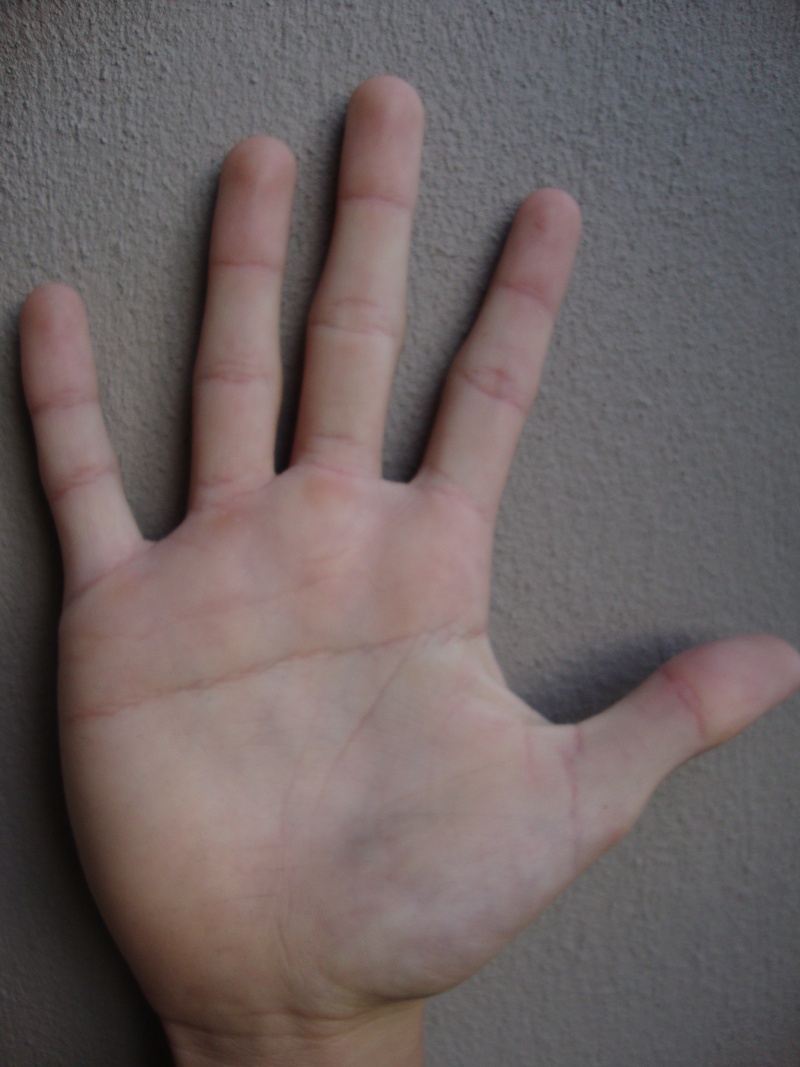 Hi Sari,

I am not sure why you have posted this picture ... but I can add that one should understand that the simian line is only an 'element' that is often seen in Down syndrome.

But many 'simian liners' do not have Down syndrome. In fact, far most people who have a simian line do not have Down syndrome... and the difference between the hands of those people and the people who have Down syndrome can be recognized relatively easy via the other hand characteristics (e.g. the hand shape + dermatoglyphics).

I hope this makes sense.

Hi,
Sorry Martijn, I understand what you are saying and I think I posted this picture in the wrong forum. I guess I wanted to discuss simian line in general.
... Okay, no problem at all.
(Feel free to add your simian line example + the story of this person as well in another simian line topic)
---
Permissions in this forum:
You
cannot
reply to topics in this forum