Who is online?
In total there are
38
users online :: 0 Registered, 0 Hidden and 38 Guests
None
Most users ever online was
387
on Tue Dec 05, 2023 7:35 pm
Moderators & partners
• Discover the Modern Hand Reading Forum partners:

• Modern Hand Reading Forum Partners
Statistics
We have
5933
registered users
The newest registered user is
Skylines3
Our users have posted a total of
47484
messages in
4936
subjects
Top posting users this month
Top posting users this week
Recommendations
• The FREE hand reading services at the Modern Hand Reading Forum are being continued in 2019 with the assistance of

G

o

o

g

l

e

adsense!
Google+
MAJOR HAND READING SYNONYMS
Palmistry, Palm Reading, Hand Analysis, Chirology & Chiromancy.
Learn how to read hands according the Modern Hand Reading paradigm & you can use this forum as your palm reading guide!
August 13 is designated International Lefthanders Day by Lefthanders International. It was first observed 13 August 1976. As its name suggests, it is meant to promote awareness of the inconveniences facing left-handers in a predominantly right-handed world. It celebrates their uniqueness and difference.

A few curious left-handedness facts:
- about 7 to 10 percent of the world's population is left-handed;
- 4 out of the 5 last US presidents are left-handed (Barack Obama, Bill Clinton, George H.W. Bush & Reagan; only George W. Bush was right-handed);
- 4 of the 5 original designers of the Macintosh computer were left-handed;
- 1 in 4 Apollo astronauts were left-handed - 250% more than the normal level;
- left-handers excel particularly in tennis, baseball, swimming and fencing;
- stuttering and dyslexia occur more often in left-handers (particularly if they are forced to change their writing hand as a child, like King of England George VI).
Feel free to share more curious facts!!
Greetings from your left-handed forum host ...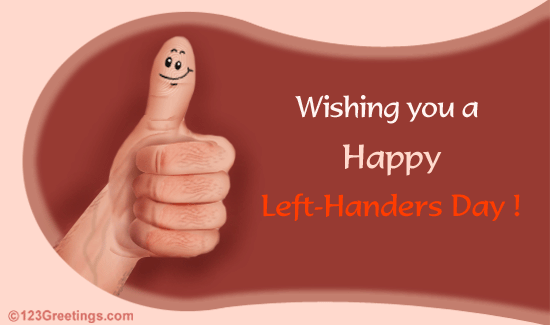 Last edited by Martijn (admin) on Fri Aug 27, 2010 7:18 pm; edited 2 times in total
It was also Friday, 13. Wasn't it?

Caprie




Posts

: 34


Join date

: 2010-08-02



Caprie wrote:It was also Friday, 13. Wasn't it?
Hi Caprie,
Fridday the 13th?
Or just coincidence....?
Though, maybe you are refering to the fact that in certain cultures left handedness is still recognized as an inferior 'quality'... but historical developments around the words have indicated that is likely just a (social) judgement.
Let's ask the current US president!
By the way, studies have indicated 'lefties' are more seen among artists, and especially in the fields of: science, politics & sports (just to mention a few).
More details are available here:
http://handfacts.wordpress.com/2010/08/13/august-13-international-left-handers-day-where-does-left-handedness-excel/
A few historically famous left handers from different cultures are for example:
Alexander the Great, Julius Caesar, Leonardo DaVinci, Mahatma Gandhi, etc. etc.
Book:
http://www.anythingleft-handed.co.uk/left-handed-history.html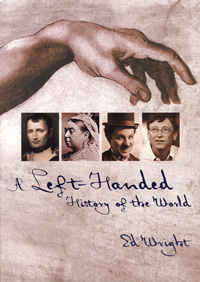 Martijn (admin) wrote:

Fridday the 13th?

Or just coincidence....?
Probably just a coincidence, if not than with a ironic connotation. Especially when you read that in the past people were blamed for practicing witchcraft and in touch with devil just because they were left handed.

Caprie




Posts

: 34


Join date

: 2010-08-02



---
Permissions in this forum:
You
cannot
reply to topics in this forum