Who is online?
In total there are
41
users online :: 1 Registered, 0 Hidden and 40 Guests
liz323283
Most users ever online was
293
on Mon Jul 25, 2011 11:22 am
Moderators & partners
• Discover the Modern Hand Reading Forum partners:

• Modern Hand Reading Forum Partners

Statistics
We have
4866
registered users
The newest registered user is
Rajveer1900
Our users have posted a total of
41669
messages in
4046
subjects
Top posting users this month
Top posting users this week
Recommendations
• The FREE hand reading services at the Modern Hand Reading Forum are being continued in 2015 with the assistance of

G

o

o

g

l

e

adsense!

Google+
MAJOR HAND READING SYNONYMS
Palmistry, Palm Reading, Hand Analysis, Chirology & Chiromancy.
Learn how to read hands according the Modern Hand Reading paradigm & you can use this forum as your palm reading guide!
HOW TO RECOGNIZE THE HAND

OFA US PRESIDENT?
The 10 photos below present a snapshot of the right hand of the last ten US presidents - starting with Barack Obama, ending with John F. Kenndy. Do you recognize similarities between these hands?
Barack Obama & George W. Bush: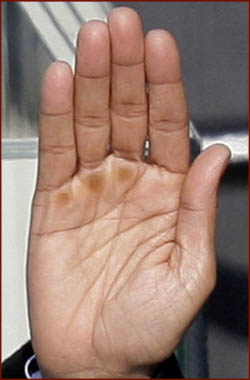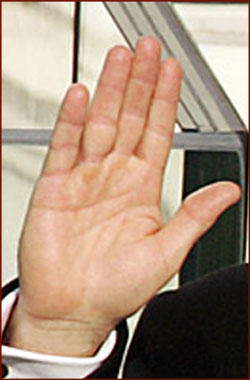 Bill Clinton & George H.W. Bush: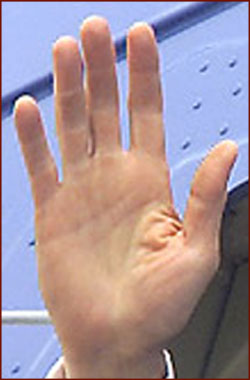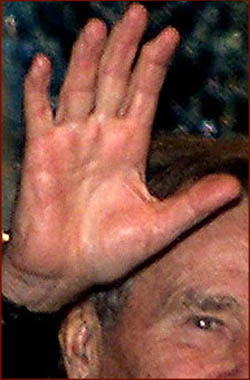 Ronald Reagan & Jimmy Carter: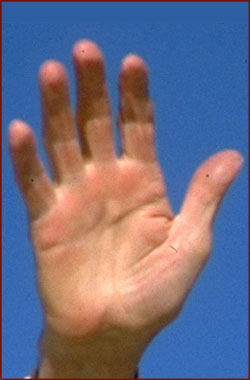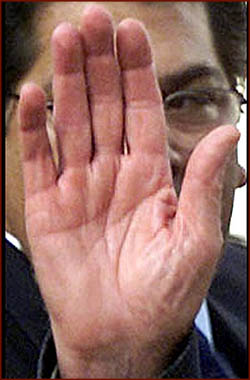 Gerald Ford & Richard Nixon: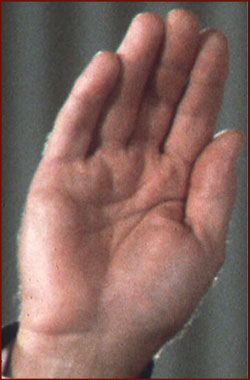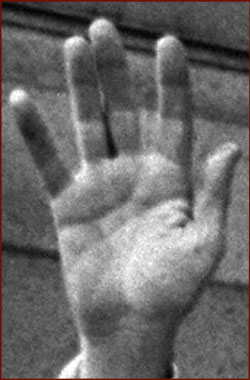 Lyndon Johnson & John F. Kennedy: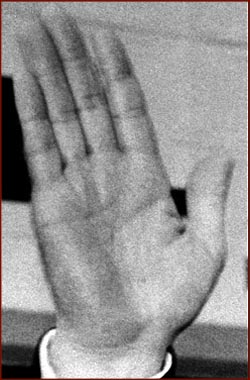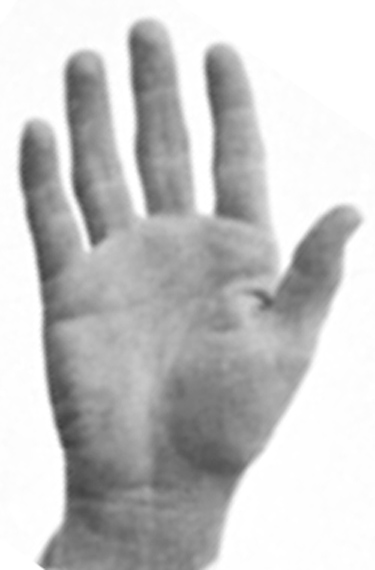 The office of the 'US president' is known as the most powerful job in the world - currently in the hands of Barack Obama. What are the common hand characteristics in the hands of the last 10 US presidents?
Last year I did some research on the similarities between those hands, and the results are listed below.
By the way, many more details (+ other photos) are presented in the article at my website:
http://www.handresearch.com/news/time-presidential-palm-readings-kennedy-obama.htm
THE 10 MOST COMMON HAND CHARACTERISTICS IN THE HANDS OF THE LAST 10 US PRESIDENTS ARE:
• 90% - Both hands: low '2D:4D ratio';
• 90% - Both hands: long ring finger;
• 80% - Both hands: normal (middle) finger length;
• 70% - Both hands: long pinky (little finger);
• 70% - Both hands: normal index finger length;
• 60% - Dominant hand: strong, long sun line;
• 50% - Both hands: second phalange of thumb is 'waisted';
Some 'rare' but remarkable features:
• 40% - Right hand: fate line connected to life line (Clinton, G.H.W. Bush, both hands: Carter, Ford);
• 40% - Dominant hand: Sydney line (Nixon; both hands: G.H.W. Bush, Carter, Ford);
• 20% - Dominant hand: double head line (Clinton, who was lefthanded - left hand; Kennedy, who was righthanded - right hand)
___________________________________________

Martijn van Mensvoort
Hand researcher & psychologist in The Netherlands (Holland)
Presents: Multi-Perspective Palm Reading + the Global Palm Reading Network
---
Permissions in this forum:
You
cannot
reply to topics in this forum