Who is online?
In total there are
20
users online :: 1 Registered, 0 Hidden and 19 Guests
pszxgy188
Most users ever online was
293
on Mon Jul 25, 2011 11:22 am
Moderators & partners
• Discover the Modern Hand Reading Forum partners:

• Modern Hand Reading Forum Partners
Statistics
We have
5646
registered users
The newest registered user is
khanh trang hoang thi
Our users have posted a total of
45629
messages in
4648
subjects
Top posting users this month
Top posting users this week
Recommendations
• The FREE hand reading services at the Modern Hand Reading Forum are being continued in 2019 with the assistance of

G

o

o

g

l

e

adsense!
Google+
MAJOR HAND READING SYNONYMS
Palmistry, Palm Reading, Hand Analysis, Chirology & Chiromancy.
Learn how to read hands according the Modern Hand Reading paradigm & you can use this forum as your palm reading guide!

This is funny. A local journalist asked me to do an interview for a feature "Ladies who lunch", for our local newspaper. Why is it funny?
1 - I never go out to lunch!
2 - I aint much of a lady either! I couldn't answer the questions about favourite cosmetics and clothes shops! Guess who came to my rescue re the question about cosmetics....... Martijn !!
"Lipstick is a good standby for taking handprints"!! :-) (thanks Martijn!)
3 - I chose "Living Coasts" as our lunch venue. http://www.livingcoasts.org.uk/
It's the coastal zoo 30 mins walk from my home where they have birds, fish, octopus (not "Paul the psychic octopus" unfortunately), seals & penguins. I chose it because of the wonderful sea views from the cafe. Only later did it occur to me what a fool I was to choose "Living Coasts"........ my surname is Seal. Hence I've had loads of jokes about "I thought feeding time for the Seals was midday?" "oh you had salad for lunch? I expected you to have the fish." oh ha,ha, like I never heard that one before! tch!

anyway she gave me a good write-up. This is the same journalist who interviewed me about 6 months ago. Note Ania & I both have very closed body posture / hand gesture - arms folded in front of us, cos neither of us like having our photo taken. I'm not smiling, I'm gritting my teeth! We were very relaxed once the photographer had gone! ;-) Hope pic quality is clear enough for you to read the text.

___________________________________________
Lynn
www.handanalysis.co.uk
This was the previous interview by the same journalist
if you can't read them, pls let me know and I will try to host higher resolution pics somewhere.
or try clicking full size pic, then hold ctrl button down whilst scrolling forward on mouse to zoom in.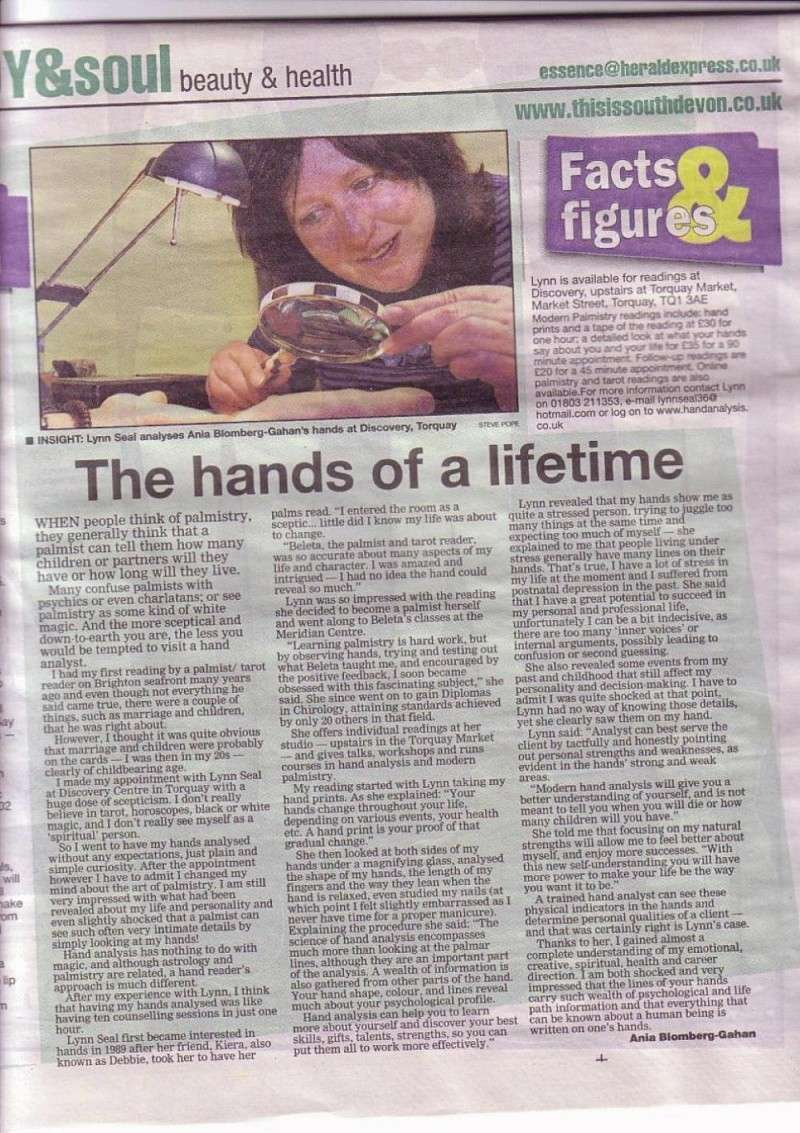 ___________________________________________
Lynn
www.handanalysis.co.uk
Hello lynn,

Great lynn. Nice to know the western's increasing awareness on palmistry through journals.


sv-b




Posts

: 615


Join date

: 2010-10-20



Hi Lynn,
I think you delivered excellent interviews!!
Also, interesting to see that the issue of 'stress' is one of your major interests. I could imagine that you could provide more info about that on your website.
I see also connections with my research on the Big Five dimension
Neuroticism
(high scores are typically much more sensitive to stress than the average person). And the issue reminds me again to one of the most interesting discussions we recently had at this forum about (where you raised the issue of 'stress', and later in the discussion we found how how 'stress' relates can
sometimes
related to both a 'zinc' deficiency in a diet, and the pressence of white spots on the nails):
http://www.modernhandreadingforum.com/iiig-fingernails-f38/white-spots-on-nails-leukonychia-t201.htm
To be continued! Thanks & well done!!
___________________________________________

Martijn van Mensvoort
Hand researcher & psychologist in The Netherlands (Holland)
Presents: Multi-Perspective Palm Reading + the Global Palm Reading Network
Hi Lynn,
You go, girl!!! Great interviews. And you're very funny!
I have a stupid American question-- What are bacon botties?

Cheers
Roberta

Roberta




Posts

: 48


Join date

: 2010-08-20


Location

: United States



Thanks folks.
Roberta....oops, yeah it's small print....it says "bacon butties". A butty is northern English for a sandwich. I know it's not healthy food but I love them!
Botties are completely different!! A botty is childish slang for a "bottom", ( ie. 'butt
ocks
' as opposed to 'butt
ies
') !!!
I wouldn't want to eat one of those!


___________________________________________
Lynn
www.handanalysis.co.uk
Hi Lynn,
So very good. You really do, as said, do very good interviews. So down to earth and unassuming. Best Wishes.
Jeanette.


jeanette




Posts

: 568


Join date

: 2010-07-27


Location

: scotland



Thanks Jeanette
sorry off topic but .....

... I mentioned Paul the psychic octopus above (who gave us so much fun with his world cup predictions on Sue's forum). I didn't know that psychic Paul died on Tuesday!


___________________________________________
Lynn
www.handanalysis.co.uk
Great article Lynn! I really enjoyed reading it. Thanks for sharing


tap




Posts

: 173


Join date

: 2010-07-25



Well, Lynn, I'm a complete ninny!
What can you expect from an American? But in my defense, the print is small. The good news is that I've learned some new northern English phrases.
I'm Queen of the Veggie Burgers but I remember looong ago how yummy bacon "butties" were! Thanks for enlightening me.
Cheers,
Roberta

Roberta




Posts

: 48


Join date

: 2010-08-20


Location

: United States



thanks tap!
Roberta, glad that 'bacon butties' didn't offend you as a veggie!

by the way, I don't even miss bacon when I visit Turkey. I could equally have answered 'chana dal'. I guess I have several 'favourite foods'.

___________________________________________
Lynn
www.handanalysis.co.uk
Congratulation Lynn

zaobhand




Posts

: 751


Join date

: 2010-08-10



I read it at the time of posting it on the forum. Great Interview !! I really feel very happy to read it again and again.

asif amin




Posts

: 209


Join date

: 2010-07-26


Age

: 36


Location

: Karachi, Pakistan




---
Permissions in this forum:
You
cannot
reply to topics in this forum